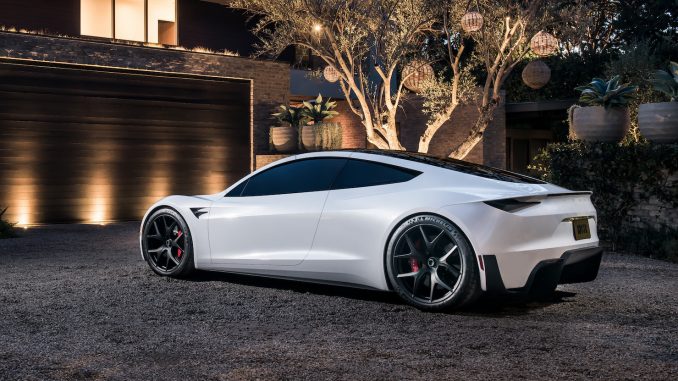 It will apparently be a while before the Tesla Roadster electric supercar rolls along the roads. It is now known that series production will not start until 2022. Announced back in 2017, the e-sports car is said to be capable of speeds of up to 400 km/h and can travel just under 1,000 kilometers on one battery charge. All info on the fast electric roadster as well as the market launch.
When the announcement of the new Tesla Roadster made its way through the editorial offices in 2017, many people were wide-eyed at first. With a maximum speed of 400 km/h, the new e-roadster is set to become the fastest series-produced car of all time, and with a range of around 1,000 kilometers, it is also set to enter new spheres for electric cars. But now, four years later, it is clear that the market launch planned for 2021 will not be met. Series production will not start until 2022, as Tesla boss Elon Musk has now confirmed on Twitter.
Finishing engineering this year, production starts next year. Aiming to have release candidate design drivable late summer. Tri-motor drive system & advanced battery work were important precursors.

— Elon Musk (@elonmusk) January 28, 2021
Advertisement
Launch is delayed
According to Musk, the delays were mainly due to the difficult work on the powertrain with three motors as well as the associated high-performance battery system. Delayed construction of some Gigafactorys (including the one in Grünheide near Berlin) and prioritization of other models (semi-truck and cybertruck) also appear to be factors in the delay.
400 km/h fast production e-car
The new Roadster is intended to be the first production e-car to break the 400 km/h barrier. The Ludicrous mode, which is already known from other Tesla models and which the engineers have further developed for the Sport Roadster, is supposed to help. To conserve the battery, however, the mode will probably only be usable for a short time. In terms of the drive concept, the decision has been made for two electric motors on the rear axle and one electric motor on the front axle, which makes it clear that the Roadster will come with all-wheel drive. According to the developers, the three electric power plants will then deliver a monstrous torque of 10,000 Nm to the axles. This means that the electric super sports car will sprint from 0 to 100 km/h in just 2.1 seconds. At the quarter-mile distance (around 400 meters), the e-sportsman dashes through the finish line after 8.8 seconds.
Over 1,000 km on one battery charge
The electricity for so much power comes from a special high-performance battery system (capacity: around 200 kWh), with the help of which a range of over 1,000 km should be feasible. Of course, this can only be achieved by those who stick to the Tesla specifications and drive exclusively "at highway speed". The battery charge level will certainly drop much faster during permanent high-speed driving. In real-life operation, figures between 600 and 700 kilometers should be realistic. But even that should still be more than sufficient for practical everyday use.
What will the Tesla Roadster cost?
Anyone who wants to park the electric sports car in their garage will have to budget for at least $250,000 (around 230,000 euros). However, with the appearance of the new Tesla Model S Plaid, many potential buyers are likely to ask themselves one question: Why pay around 100,000 euros more? Because the Model S top model (base price: 139,990 euros) also comes with over 1,000 hp and a range of over 840 km. In the end, everyone has to decide for themselves what the eco-friendly driving pleasure is worth.
Image: Tesla
Advertisement