The development of tires always is in progress. Especially when it comes to motor sports tires as well as tires that have to fulfill environmental needs. It's not just electrically powered race cars and sports cars that have to find a compromise between ecological efficiency and performance. The same also applies to their tores.
"With electric vehicles (…) there are significant differences in the vehicle concept compared to the conventional powertrain. These include the low center of gravity due to the battery pack, the lower dynamic axle load shift, the high torque at the wheel and also the changed vehicle interior acoustics," explains Stephan Rambow, Account Executive Passenger Car OE at tyre manufacturer Bridgestone. In addition, tires for electric cars have to provide a higher load-bearing capacity due to the weight of the battery.
Significant differences in the vehicle concept
Like Bridgestone, Hankook develops tires for electric cars, too. The Koreans are supplying the new Porsche Taycan, the first all-electric sports car from Porsche, with their Ventus S1 evo 3 ev e-tires. In the size 225/55R19 XL 103Y on the front axle, 275/45R19 XL 108Y on the rear axle and with Porsche approval, the tires represent the entry-level tyre solution for the Taycan. To meet the heavy demands of the high performance of electric sports cars, the tyre has a reinforced bead with so-called bead-packing technology, as well as high lateral stiffness for precise handling even at high speeds.
Advertisement
Abrasion resistance has been improved by 5% compared to the conventional model and rolling resistance has been improved by 13% overall. Ventus S1 evo 3 ev achieves 30% greater durability compared to a standard tread compound.
Tires for electric sports cars are becoming more and more high-performance
Durability always is an important – not only for road tires but also in racing. Michelin also optimised the rolling resistance of their latest-generation Pilot Sport tyre for the Formula E to optimise its energy efficiency. The new tyre not only extends the range of the Formula E single-seaters, but also increases its energy efficiency.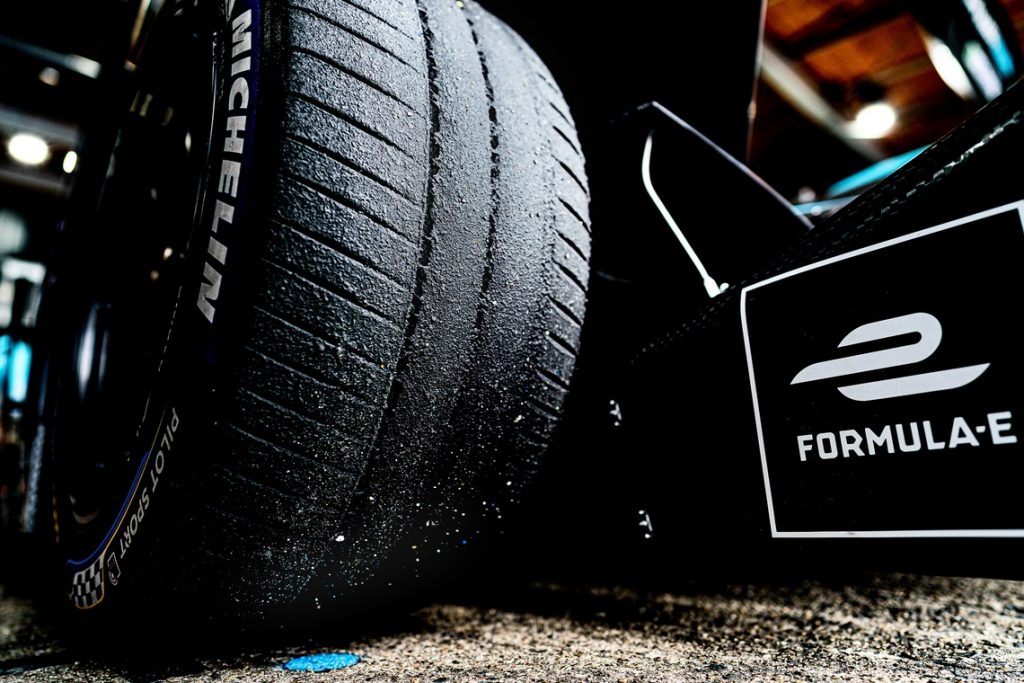 In racing, saving weight is an ongoing objective, not only when it comes to optimising performance but also in environmental terms. Lighter tires mean a lighter car, reduced unsprung masses and also less to recycle. Compared with the the first-generation Formula E tyre from Michelin, the tyre for season 5 (2018/2019) was 2 to 2.5 kg (front/rear) lighter. A saving of approximately 9 kg per set of four. Which means Michelin managed to save 20 % of weight overall.
And that is not only a great thing for performance, but also for the environment.
Images: Hankook, Michelin
Advertisement